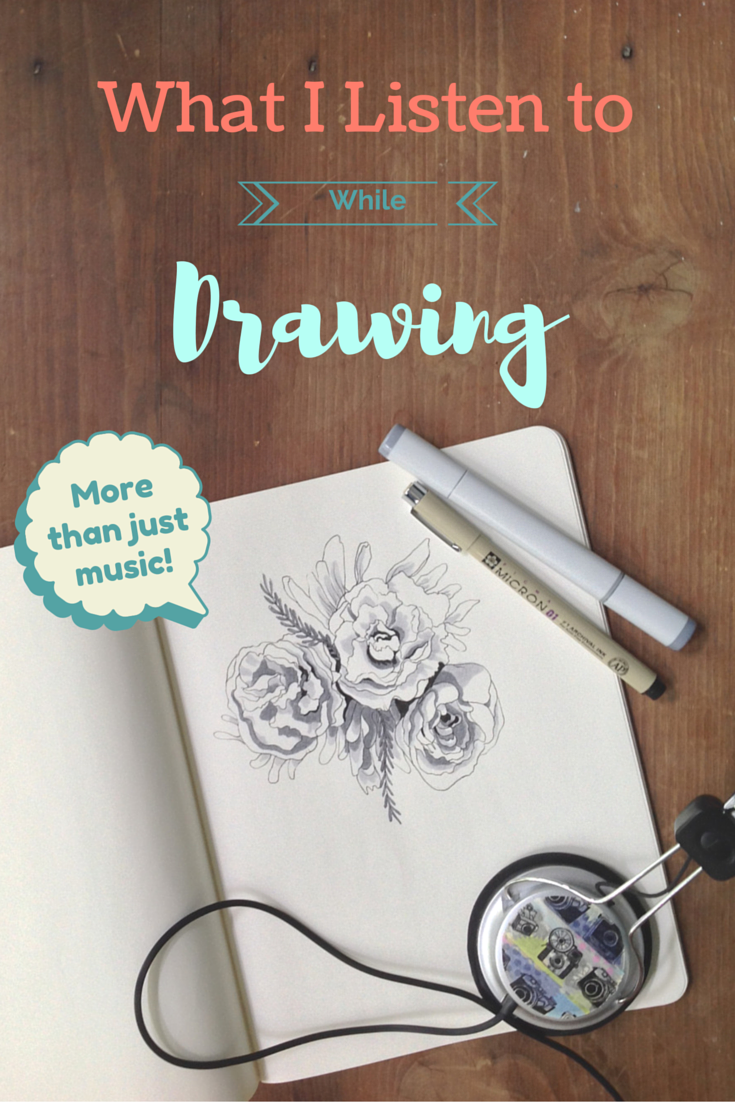 I think we all know that drawing isn't exactly the most exciting activity. Although it is relaxing, maybe coloring in that thousandth strand of hair is getting a little bit boring. That's why I usually listen to a variety of different things when I draw. I used to only listen to generic top 40 music, but over the years I've found a few more interesting drawing accompaniments. Here are a few of my favorite things to listen to while drawing.
Podcasts
Radio isn't dead. Ok, perhaps it is-but the radio drama isn't. Through the internet you can listen to thousands of free podcasts and some of them are really good.
Alice Isn't Dead
Alice isn't Dead is the lastest offering from acclaimed Welcome To Nightvale writer Joseph Fink. It is about a truck driver traveling all over the country in search of her wife. I don't want to say anymore to ruin the surprise, but there is a lot more to the story than that in true Nightvale fashion. It manages to be both poignant and terrifying all in the same show and I'm really excited to see where this brand new podcast goes.
The Black Tapes is a weekly podcast revolving around a certain collection of tapes documenting supernatural occurrences. Currently the Black Tapes is on a short break while the hostess Alex Reagan recovers from…well you'll find out if you watch it. Still, it should be back by May 2016 and is it gonna be good! To fill the time in between, I suggest watching The Black Tape's sister podcast Tanis. I would actually say Tanis is better written than the Black Tapes-but it is a little slow to start off. Either way, they actually encourage me to draw because I can't wait to listen to the next episode!
The Lore Podcast is for both history nuts and fans of the supernatural. Aaron Mahnke looks into common myths and legends to find the truth behind them. I can definitely say each episode is incredibly well researched and I learn so many new things each time I listen. Besides getting caught up on some history, the history is actually really interesting. I would recommend not listening to this podcast alone at night.
Music
Music should be change depending on your mood or better yet, what you want your mood to be. I realize that there are so many music genres around the world, and even if you don't like my suggestions I hope it leads you to find the best music for drawing.
Video Game music
The best music for drawing doesn't impede or distract you from your task while keeping you energized and motivated. This is why I love listening to music from video games while I am drawing. Video game music is literally meant to be played in the background while preforming various tasks. This makes it perfect while trying to things like studying or drawing.
Melanie Martinez-Dollhouse
Sometimes you don't want an easy listening track in the background but rather some music to inspire you. I recently found Melanie Martinez's music and fell in love. She is known for making it to the top 6 in the reality TV show The Voice as part of team Adam. Her debut album centers around a girl named 'Crybaby' and their life as a child. With track names like 'Alphabet Boy', 'Mrs. Potato Head', and 'Mad Hatter'-you really can't go wrong. My favorite track from the album is probably Pity Party, but it is so hard to choose one as they are all delightful.
Panic at the Disco!-Death of a Bachelor
I've tried my best to no longer pull any more all-nighters, but sometimes I still find myself out of energy and motivation at 2 AM. I can fully say that no other music energizes me as much as some of the tracks on Panic's new album. I swear it's like an instant shot of caffeine. I've never been to an adult party or a club, and probably never will-but that doesn't stop me from listening to 'Don't threaten me with a good time' and pretending I'm rocking out with front man Brendan Urie. Not to mention that the video for 'Emperor's Clothes' is one of the most awesome videos I've seen recently.
Audio Books
Audio books are similar to podcasts, with a few exceptions. They are usually read by one narrator and are just readings of books. Of course, books usually have more cohesive stories than podcasts but lack the additional voice actors that podcasts have. Now, I've got to warn you-Audiobooks are really expensive. After all, they are recordings of someone reading an entire book out loud, and that takes a lot of work. I know there are services like Audible.com by Amazon that let you get one audiobook a month for 14.95 a month but I have not personally tried it out.
Welcome to Nightvale by Joseph Fink & Jeffrey Cranor
I personally have the audiobook CDs of the Welcome to Nightvale book. Its really quite wonderful and a completely different experience than reading a book yourself. Cecil narrates the book just as he does the Podcast, and he appears in the novel in more ways than you might think.
I know you've seen the movie and now it is time to read, or hear the book. It is deeply moving and I can almost guarantee you that you will be a gushing pile of mush by the end of the book. You probably already know that, but I want to let you know that there are so many poignant moments and clever wording that the movie misses out on. You may not be able to draw after a certain point in this book, but it is a must read for any young adult fiction fans.
It is a classic, and unlike the classics that your teacher made you read-it is actually a fun read. Not to mention, there is the original BBC version recorded in 1983 Ian Holm and Michael Horndern. Can you say epic narration? I had to listen to this version even though I had already read the books, and it was even better the second time.
So what do you say, do you like these suggestions? They're mostly just a list of my personal favorites, but I hope others will like them too. Do you have any favorites to listen to while drawing? Leave them in the comments below.